WoodOwl is a company that is new to us here at Pro Tool Reviews, but they're certainly not new on the wood drilling scene. They're a division of the Japanese-based Star-M Corporation that's been around since 1923. We really wanted to look at the performance of these drilling and boring accessories to see if they're a good fit for Pros and how well they're priced for that performance.
[adsenseyu1]
The build quality is certainly something WoodOwl takes seriously. Each bit starts with a blank of S55C steel which is milled and then sent through their hardening process. At that point, the bits are ground to a perfectly concentric form. Each bit is bent by hand to eliminate any wobble, followed by finishing and sharpening, also by hand.
We decided to check out several types of bits that WoodOwl produces to put them up against other premium bits like Milwaukee drill bits and Bosch Daredevil spade bits. We want to know if they have the performance to really compete at the premium wood drilling and boring level. We brought in spade bits, boring bits, and wood boring bits and tested and compared them using a Milwaukee M18 Compact Brushless Hammer Drill.
A quick search will find that WoodOwl drilling and boring accessories enjoy a very good reputation, particularly among woodworkers. That's an encouraging start considering the precision and performance that those folks require.
WoodOwl Flat Wood Boring Bits (Spade Bits)
WoodOwl spade bits share a very similar design to the Milwaukee Speed Bits. The only really noticeable differences are a tip that isn't sharpened to a completely round point and slightly thinner design. Not surprisingly, the bits perform almost identically to Milwaukee's with no quantifiable difference in boring speed.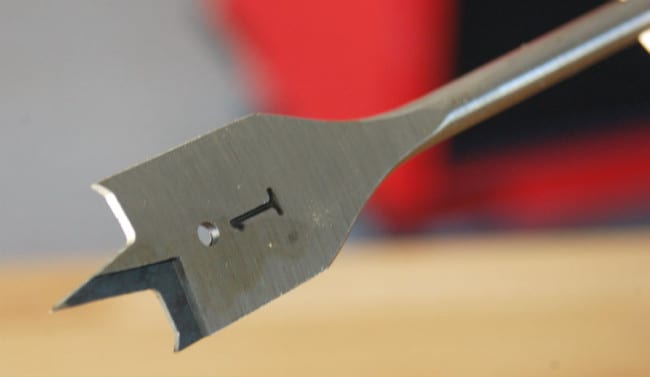 The cutting performance here is solid and smooth. Left to the high speed mode and allowing the bit to carve out the hole, it's an absolute pleasure to drill with. Breakthrough leaves some splintering, but they're above the average premium bit in leaving a clean cut. This is great for those woodworking applications where precision and a clean cut trump drilling speed.
On the construction end of things, where speed is the key, WoodOwl is more than adequate as well. In really putting some force behind the drill to push through the pressure treated 2x material, I was able to drill at speeds that meet my expectations for a premium bit.
When you compare them to the Bosch Daredevil Spade Bits, there's clearly still a major performance gap. WoodOwl doesn't employ the same self feed, contoured, and thicker design of the Daredevil. That's not to say that the WoodOwl bits are inadequate. They absolutely have Pro level performance, they're just not top of the class.
WoodOwl Flat Wood Boring Bit 6 Piece Kit (tested)
6″ x 3/8″
6″ x 1/2″
6″ x 5/8″
6″ x 3/4″
6″ x 7/8″
6″ x 1″
Product Number: 00660
Online Price: $19.99 (Amazon)
Ratings
Professional Performance: 9/10
Build Quality: 9/10
Size Options: 10/10
Value: 7.5/10
Overall: 8.9/10
WoodOwl OverDrive Fast Boring Bits
WoodOwl OverDrive Fast Boring Bits cover nearly the same range of diameters as the spade bits. These have been specifically designed for use in cordless drills with an emphasis on battery efficiency. They feature a design that is more reminiscent of a standard drill bit, but with the shaft of a spade bit. This should reduce the amount of friction when drilling deeper holes and (as claimed) lead to greater battery efficiency. A hex shank ensures quick change compatibility.
I tested the WoodOwl OverDrive bits in both high and low speeds in a variety of woods. At high speed, you get a fast, efficient cut that outperforms the spade bits. Surprisingly, I had a little bit of trouble controlling the bit when I was shooting for dead on accuracy. Switching to low speed (high torque) gave me the control that I wanted, but obviously at a loss of speed. You probably want to start these bits slowly and then ramp up the speed.
Despite the perfect balance of the bit, the control issue in high speed leads me to steer our woodworkers and carpenters towards spade bits for perfect control and a delicate finish when using a hand held drill. Those of us working in construction and remodeling will love the speed and efficiency of the WoodOwl OverDrive when we can afford to be slightly less than perfect. Really, the only thing left to do with these is put a self feed tip on. I'm not sure that anything else on the market would be able to beat it at that point.
WoodOwl OverDrive Fast Boring 6 Piece Kit (Tested)
6-1/2″ x 1/2″
6-1/2″ x 5/8″
6-1/2″ x 3/4″
6-1/2″ x 7/8″
6-1/2″ x 1″
6-1/2″ x 1-1/4″
Product Number: 00706
Online Price: $66.99 (Amazon)
Ratings:
Professional Performance (Woodworking): 7/10
Professional Performance (Construction): 9.5/10
Build Quality: 9.5/10
Size Options: 9/10
Value: 7.5/10
Overall: 8.5/10
WoodOwl Self-Feed Wood Boring Bits
WoodOwl Self Feed Bits take over for larger holes up to 4-5/8″ inches. The WoodOwl Self-Feed Wood Boring Bits are like Forstner bits on steroids (and without the finesse). The teeth on the outside of the bit have a wider cutting surface that seems to stabilize the cut better than other designs I've used. The self feed tip also helps to ensure that the bit is working with the drill rather than you having to apply down force to push it through.
Because of the way wood boring bits chew a hole out, it's a very demanding task and most often requires users to be in high torque mode on their drill. WoodOwl Self-Feed Bits are no exception here. They were able to work down partially in high speed mode, but required additional torque to finish the job. For jobsite cuts, you'll want to start and finish in high torque mode to make consistent cuts.
I found that the WoodOwl wood boring bits will drill through wood slightly faster and more confidently than your typical Milwaukee self-feed bit. While it wasn't a blow out, it did find a consistent advantage for the WoodOwl Self-Feed Wood Boring Bits. Like all bits of this type, they're out of balance thanks to the need for heavy chip removal. That's also where the need for the self feed tip comes into play. Once I got each hole started, the bit and the drill took care of the rest. Aside from pressing the trigger and setting the start point, I'm not entirely sure that I was needed.
WoodOwl Self-Feed Wood Boring Bit 8 Piece Contractor Set (Tested)
1-1/8″
1-1/4″
1-3/8″
1-1/2″
1-3/4″
2-1/8″
2-9/16″
5-1/2″ Extension
Product Number: 05013
Online Price: $112.09 (Amazon)
Ratings
Professional Performance: 9.5/10
Build Quality: 9/10
Size Range: 9.5/10
Value: 8/10
Overall: 9/10
[adsenseyu2]
Conclusions and Parting Thoughts
When I got started with this project, I really wanted to find out if WoodOwl bits had the performance that it takes to be considered among the premium bit manufacturers. What I found is that they are legitimate contenders in the field. The performance and build quality are what I expect from premium pro level accessories and, in the case of the OverDrive Fast Boring Bits, they even exceeded my expectations.
While there are some faster cutting accessories that lead the class, don't think that WoodOwl is somehow substandard. The build quality that I see in each of these bits leads me to believe that's it's not a lack of innovation or technology, it's ensuring that when they push it to the next level, it still meets their high standards of durability. The easiest example would be the addition of a self feed tip. This feature can easily push the speed at or near the top. However, it can also lead to bit failure if not correctly bonded which we see have seen in many other bits.
I'm thoroughly impressed with the WoodOwl boring and drilling accessories that we tested. I can heartily give them my full recommendation for professional use.