Pro Review
Power

Run Time

Ergonomics

Value
Final Thoughts
The Milwaukee M18 Fuel High Torque Impact Wrench is a must have, especially if you are already invested in the M18 battery system. This tool could prove invaluable to dock and deck builders that have to install large lag bolts regularly. Once again, Milwaukee delivers a top performing tool that actually has the guts to back up the claims on the packaging
Milwaukee M18 Fuel High Torque Impact Wrench Features 1000 Foot Pounds of Nut Busting, Man Card Building Torque!
Having always been a gear-head, I was super excited when the opportunity came up to review the Milwaukee M18 Fuel High Torque Impact Wrench. With up to 1000 foot-pounds of nut-busting torque at the press of the trigger; the power not only rivals many pneumatic impact wrench, but actually surpasses them. And of course, Milwaukee is showing off their prowess by doing it all with a single RedLithium 18V battery.
Sure, I am a construction guy most of the time, but I am also one of those guys that takes on the challenge of doing almost all my own vehicle repairs and maintenance. Just a few weeks ago I replaced the front wheel bearing hub assemblies, upper control arms and lower ball joints on my F150. I could have taken it to my local mechanic, but where is the challenge in that? Besides, I needed a good project to give the Milwaukee Impact Wrench a run.
Milwaukee M18 Fuel High Torque Impact Wrench Specs: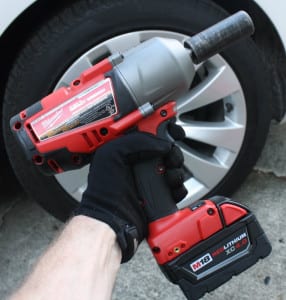 Fastening Torque: 350 ft-lbs (Mode 1) and 600 ft-lbs (Mode 2)
Maximum Reverse Torque: 1000 ft-lbs
RPM: 1-1,200 (Mode 1) and 1-1,700 (Mode 2)
IPM: 1-1,700 (Mode 1) and 1-2,300 (Mode 2)
Anvil Size and Type: 1/2″ Square – Pin Detent
Voltage: 18V – M18 REDLITHIUM XC4.0
Trigger: Variable Speed
LED Light: Yes
Electric Brake: Yes
Length: 8-3/8″
Weight (with battery): 7 lb 4 oz
Warranty: 5 Year Tool and 3 Year Battery
 [adsenseyu1]
What's in the box
Milwaukee M18 Fuel 1/2″ High Torque Impact Wrench with Pin Detent (2762-20)
Two M18 REDLITHIUM XC 4.0 Extended Capacity Battery Pack (48-11-1840)
M18 & M12 Multi-Voltage Charger (48-59-1812)
Carrying Case
The Milwaukee M18 Fuel High Torque Impact Wrench arrived in the typical Milwaukee blow molded carry case that provides space for the tool, the charger, and two batteries. The first thing that I noticed before I even opened the case is the heft of the contents. Even before I tried out the impact wrench, I could tell that I was holding a tool that was built to take a beating. I don't recommend beating up your tools intentionally, but it is worth pointing out when a tool has the feel of something that can take a hit.
Built in the fashion of the latest Milwaukee M18 Fuel series of tools, this impact wrench features a black rubber overmold for the grip areas. It also features the typical forward and reverse push switch located above the trigger where it can be activated with a quick thumb or forefinger flick (the middle position is a safety that prevents the trigger from being pressed).
Inside, the motor is Milwaukee's proprietary Powerstate Brushless Motor. This has some major benefits over regular cordless tool motors such as no wearable parts and cooler running temperatures which can provide up to three times the life of regular motors. While the trigger and mode buttons provide for user input, the internal motor control comes through the Redlink Plus Intelligence system. This electronic system ensures maximum performance and protection from overload, overheating, and over-discharge of the battery. All this to say that the motor runs much more efficiently, offering up to two times the run time when compared to previous generation models.
This Milwaukee M18 Fuel High Torque Impact Wrench is the 1/2″ Pin Detent model. For those not familiar with the different anvil attachment methods, means that there is a spring loaded pin on one side of the anvil that lines up with a hole in the socket. The other common attachment method is the friction ring of which Milwaukee offers as well. The Pin Detent is definitely the more common when you are not swapping sockets often or if you are working in situations where you don't want to have a socket accidentally come off the tool. To remove sockets from the tool when the detent is lined up with the hole in the socket, simply use a small screw driver to push the pin in and then pull the socket off. When I am swapping sockets often, I don't line up the socket hole with the pin detent which facilitates quick socket swaps.
Where the Milwaukee M18 Fuel High Torque Impact Wrench starts to differ from its pneumatic brothers is in its weight and length. For me, since I only use this tool occasionally (and even then it is to just remove or install a few nuts or bolts), I have yet to consider its 7lb 4 oz weight to be an issue. Also, its 8-3/8″ length has not been a problem either. Perhaps when working in confined spaces, it could come into play; but that is where I would simply throw on an extension or some wobbler sockets.
To offset the downside of its weight, there is a major convenience factor to consider. When compared to the corded and pneumatic models, the lack of a power cord or a hose is a huge game changer. Lets face it, flat tires never happen in the garage, but rather out on a job site or on the side of the interstate. Simply put, having a cordless impact wrench under the back seat of my truck is the difference between busted knuckles and tire irons or just letting the tool do the work!
Testing
My first time using the Milwaukee M18 Fuel High Torque Impact Wrench was when I did a major front end project on my 2002 Ford F150. After 255000 miles, the upper and lower ball joints had enough. I had metallic thumping sounds when going over bumps and the driver side wheel bearing was starting to make noise. For those that are not mechanical, this is actually a pretty tough project since it involves a lot of disassembling and reassembling of the front end suspension and steering components. This is where the Milwaukee Impact Wrench came into play.
First impression? Lug nuts are no challenge for this tool! The lug nuts spun off as if they were put on by my 9-year old daughter. Just a word to the novice, make sure you know the direction of the motor before you start to remove nuts and bolts. With literally a half ton of reverse torque and depending on the application, this tool could snap bolts with ease.
Where the challenge started was in removing the lower ball joints. In my model of truck, the ball joints are pressed into the lower control arms. In order to remove and install the ball joints, I rented a press kit from one of my local automotive part suppliers. Basically this kit is made up of a giant c-clamp that utilizes different arbors to force the ball joint in or out of position. Now that is easier said than done. At one point, then I tried to budge the ball joint loose with a 1/2″ drive breaker bar and got nowhere. When I slapped the socket on the Milwaukee, set the mode to "2" and gave it a little juice, within a few seconds the ball joint began to move. It is hard to argue with a tool that can instantly deliver 1000 ft-lbs of torque in reverse. The nice thing about using a tool like this is that it efficiently and effectively transmits almost all the power and torque to the application and not to me. The amount of felt vibration and torque was nothing considering the work that was getting done.
For many tool reviews we like to test and verify manufacturer specifications. To be honest, we simply don't have the technology at our fingertips to be able to test the torque and impact frequency of this tool. So some might be wondering what is the basis for testing this tool then. Like most of you, we have some experience with other similar tools, and when one comes along that knocks our socks off it is easy for us to compare. For me, my first real impact wrench was a Chicago Pneumatic 7750 Turbo which has up to 800 ft-lbs in reverse and 1800 IPM. For years I used this in my garage for all kinds of mechanic work and 10 years later it is still great and my go to tool for in shop repairs. The next impact wrench that I used extensively was a Kobalt 18V Lithium-Ion cordless model. The Milwaukee M18 Fuel High Torque Impact Wrench began to change my thoughts on what cordless power tools could do.
Now that I am using the Milwaukee M18 Fuel High Torque Impact Wrench for all my automotive projects, I can easily say that it has all kinds of nut-busting power and plenty of battery reserve. When I compare this tool to the others that I have used, it is easy to appreciate its features and abilities. If you have been hesitant to take the jump from pneumatic to cordless impact wrenches, the Milwaukee 2762 is the tool that will make the transition easy since there is no loss in power. My guess is you will actually gain some torque by making the switch.
Conclusion
Who should have one of these bad boys in their tool collection? Anyone that has to deal with lag bolts, tire lug nuts, rusted or stuck fasteners, junk yard runs or anything else that requires a little bit more than some grit and elbow grease to install or remove. The Milwaukee M18 Fuel High Torque Impact Wrench is a must have, especially if you are already invested in the M18 battery system. This tool could prove invaluable to dock and deck builders that have to install large lag bolts regularly. Once again, Milwaukee delivers a top performing tool that actually has the real world performance to back up the claims on the packaging.