Ryobi Garage Door Opener and Module System
Ryobi Garage Door Opener and Module System
---
Ryobi Garage Door Opener and Module System: Make Your Ordinary Garage More Intelligent
I've heard of modular homes, but modular garage door openers? That's the concept that engineers jumped in feet first with when they drew up the new Ryobi Garage Door Opener and Modular System.
It all starts with the Ryobi Ultra Quiet Garage Door Opener and builds from there. The class-leading 2 horsepower motor is capable of 100 openings using a One+ 18V battery for backup power. That's pretty cool in its own right, but it gets better, and I'm honestly not quite sure where to begin. I guess I'll just work my way down the list and you can decide what the best add-ons are for your garage.
The Ryobi Garage Bluetooth Speaker Module can deliver your favorite music from up to 30 feet away. Since it's attached to the opener, you've got central sound to fill the space. A Laser Park Assist Module can help you safely pack your car (or freak out your kids that play too many video games).
[adsenseyu1]
The 16 Gauge 30 Foot Retractable Cord Reel offers 3 outlets and enough cord to reach just about anywhere in your garage. The cord retracts right back up and out of the way when you're finished. One of our favorite products from Ryobi, the One+ Hybrid Fan, has a new brother with the Garage Fan Module. Whether you're blowing hot air out or cool air down, you can control the direction of the breeze easily.
There's a safety option in the Ryobi Garage Door Opener and Module System as well. The Garage CO Alarm Module detects carbon monoxide, temperature, and humidity levels at any given time. The 85 decibel alarm will let you know when levels become dangerous.
The best part about the Ryobi Garage Door Opener and Module System is that it can be completely controlled using Ryobi's Garage Door Opener App on Apple or Android phones. Here's a breakdown of what to the expect from the system:
Ryobi Garage Door Opener and Module System
Ryobi Ultra-Quiet Garage Door Opener
Manufacturer Key Features
Class leading 2 Horsepower motor
Steel reinforced belt drive
20% quieter than leading openers
Battery backup via Ryobi One+ 18V battery
3-piece rail for easy assembly
Intelliport to charge, protect, and maintain battery backup
LED light
Wi-Fi and HomeLink compatible
Lifetime warranty on motor and belt
Controlled via phone with Ryobi Garage Door Opener App
Manufacturer Specifications
Model: GD200
Motor: 2 Horsepower electric with battery backup
Backup Power: Ryobi One+ 18V battery
Price: $238
Warranty: 3 years
Availability: April 2016
Ryobi Garage Bluetooth Speaker Module
Manufacturer Key Features
Bluetooth connectivity up to 30 feet
Integrated microphone for hands free calling
Powerful speaker delivering rich, clear sound
LED pairing indicator
Simple installation with Ryobi Garage Door Opener
Controlled with Ryobi Garage Door Opener App
Model: GDM120
Manufacturer Specifications
Price: $54
Warranty: 3 years
Availability: April 2016
Ryobi Garage Laser Park Assist Module
Manufacturer Key Features
Visual indicator to help prevent damage to vehicles
Dual lasers for two car garages
Automatically activates with garage door
Simple installation
Manufacturer Specifications
Model: GDM222
Price: $44
Warranty: 3 years
Availability: April 2016
Ryobi Garage 16 Gauge 30 Foot Retractable Cord Reel
Manufacturer Key Features
16 gauge, 30-foot retractable extension cord
3 outlets with LED live-wire indicator
Adjustable auto-stop
Simple installation
GFCI protection and 10 amp breakers through the Ryobi GD200 Garage Door Opener
Manufacturer Specifications
Model: GDM330
Price: $64
Warranty: 3 years
Availability: April 2016
[adsenseyu2]
Ryobi Garage Fan Module
Manufacturer Key Features
Dual pivot point adjustments
Variable speed settings
Simple installation
Manufacturer Specifications
Model: GDM421
Price: $54
Warranty: 3 years
Availability: April 2016
Ryobi Garage CO Alarm Module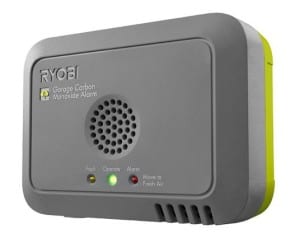 Manufacturer Key Features
Monitors carbon monoxide, temperature, and humidity
Temperature and humidity readings available on phone app
85 decibel alarm
Test and silence alarm from the unit or your phone
Lithium AA batteries included for backup
Simple installation
Manufacturer Specifications
Model: GDM920
Temperature Range: -40 to 150 degrees Fahreheit
Price: $58
Warranty: 7 years
Availability: July 2016